If there is one personal quality that the figure collecting hobby develops, it's patience. The journey from original source material, to the first prototype at an expo, to painted prototype, to pre-order, to delay(s) and finally to release usually is an absurdly long one. This often means by the time a figure appears of a anime I really enjoy, that anime has flown off the radar ages ago. Still, some series manage to endure the test of time, one of them being AnoHana from which Alter's 1/8 Menma hails from.
Ano Hi Mita Hana no Namae wo Bokutachi wa Mada Shiranai.(AnoHana for short) is a melodrama about a group of estranged childhood friends. Once known as the "Super Peace Busters", the gang has since parted ways after Honma Meiko (nicknamed "Menma") — one of its members — died in an accident when the group was out playing together. Yet several years after, Menma's ghost would come to revisit Jinta, another member of the group and the protagonist of the story, thus beginning a journey to reconcile with the past not only for Jinta, but the rest of the Super Peace Busters as well.
The anime is good, but it's one of those shows that I'm a little uncertain about after the fact. Looking back, it was very heavy-handed with its melodrama and I can easily see a lot of potential eye-roller moments. But I didn't seem to mind — I marathoned the series in two sittings, and the floodgates on my face crumbled away to nothing by the end. Having emigrated to Canada at the age of eleven, I don't even remember the names of my childhood friends from the motherland, so I may be especially susceptible to a story about the ultimately unbreakable bonds of such friends. In any case, I would recommend AnoHana to anyone, but especially if you've enjoyed melodramas like the KEY shows — if you could stomach the melodrama in Clannad, then AnoHana should be just the thing for you.
Anyways, back to the figure, which depicts a girl who isn't dolled up and sexed out in any way — unthinkable, I know! I suppose that's testament to how much I liked AnoHana, so let's see if Alter's Menma lives up to that.
Despite being a ghost, if I had to describe Menma in one word, it would be "playful". There have been other interpretations of the character before, but Alter really hits the nail on the head here. From her tilted head to the legs in mid-swing, Menma is the picture of playfulness.
I might be a little weird for saying this (oh who am I kidding — I am more than a "little" weird), but I really like Menma's toes. Her bare feet constitute as one of her hey visual traits, and I'm glad it is emphasized so greatly in this figure. Even her toes are parted, which really isn't something you see too often in figures.
The pose of the figure allows Alter to really give some volume to the sculpt of her dress — and they did. It looks very fluffy and multi-layered, though it doesn't look quite as light at it looks in the anime. I think this is due to the small scale of the figure — at only 1/8 scale, I imagine Inagaki Hiroshi sculpted himself into a wall when he had to sculpt such a skirt in such a scale. The result is something that looks a tad too heavy and bulky.
Menma's display base depicts a slice of their cosy little clubhouse in the woods. The little cross-section lifted from the clubhouse is remarkably comprehensive — it's got the sheet metal backing, a bit of mattress and um…a mattress-less top bunk? I wonder who built their clubhouse. Either these are some very  industrious kids, or there's a father-of-the-year working tirelessly behind the scenes.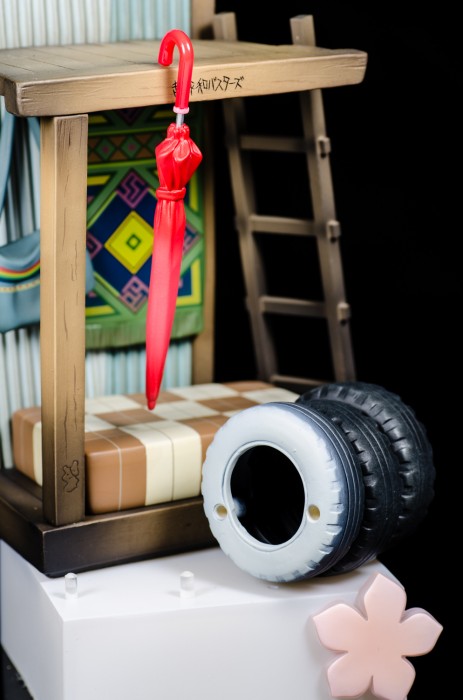 A stack of tires, wall decorations, and a removable umbrella and Menma's journal completes the picture — a very detailed picture, at that. The journal deserves special mention. It may be smaller than you big toe tail, but it leaves no de tails wanting.
The display base would be the flawless highlight of this figure if not for one thing and one thing only: the support block underneath it. The clubhouse base is great because it greatly enhances the context and atmosphere of the figure, but the white block underneath it does nothing other than to undermine it, so much so that I can't fathom why it's there at all. Hell, even a generic brown disk would be better — at least that would represent the dirt floor the clubhouse is built on. But don't get me wrong — Menma's base is amazing — it's just the decision to put a white box underneath is also amazing (for decidedly different reasons).
Final Say
Would I recommend Alter's Menma? Yeah, she's pretty cool. This figure has the distinction of being the only figure I currently own that doesn't overly play up the sex appeal (unless you're into feet), and I do admit that I feel something is missing because of that. But she's such a great depiction of the character that I have plenty of other reasons to like the figure.
Menma is also a great figure to take for outdoors photos — you can make her sit on anything! Furthermore, she's small enough to fit into the padded compartments of most camera bags, so she is easily "deployable".  During my Washington trip I had Hamstercorp hold her by her little foot in the middle of  one of the densest crowds all year while I stood off  to the side and snapped away with my long focal length macro lens. And though a horrible human being I may be, even I felt bad for subjecting the Hamstercorpse to such cruel and unusual punishment as I could detect the hint of unease across that usually expressionless face of his.
Speaking of attractive people from the internet, check out Wieselhead and Jenn's reviews of this figure!
Pros
Very true to Menma's character
Scene-setting display base
Detailed feet
Cons
Slightly chunky feel to the dress

Block beneath the base breaks the scene
Speaking of Washington, here are some random photos from the trip!
There wasn't a cloud in the sky on that day and the cherry blossoms weren't in full bloom, so the conditions weren't ideal for my plans to take photos of plastic butts. However, I rather enjoyed Washington, and I especially took a liking to the memorial statues. Makes sense — I mean, they ARE technically large-scale figures if you think about it.
…Now I feel terrible about comparing the statues in Washington to the plastic butts in my Detolf. Oh God I'm so sorry.
You can find the rest on Google+ where I occasionally post stuff for the #figurefriday events or other things that may not be too relevant to plastic butts. So if you use G+ ADD ME because my self-confidence is measured in +1s.