After taking a year off, I'm back at Anime North! After Otakon last year, I had my doubts on whether or not I'd attend AN again, but as luck would have it, I got into touch with Jenn and Suich from Poke the Merch and decided to give it a shot — I just can't say no to meeting strangers from the internet!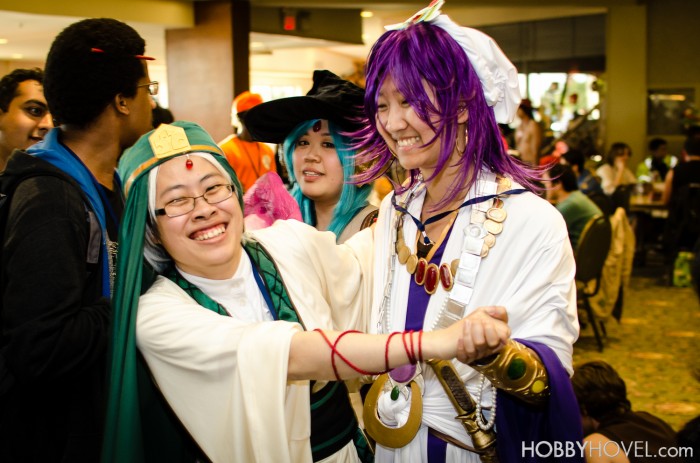 As you might know, figure bloggers have a strong tendency to be smart and attractive (LIKE ME), and Jenn and Suich were no exception. They were rolling out in full force with their friends with their Magi cosplay. I confess I know nothing about the series and had only found out that the characters are actually men much later in the day.
I was both happy and jealous to see readers of Jenna and Sui Chee greet and approach them throughout the course of the day, as their giveaway contest was a smashing success! The lucky winner of the draw took home with him a Nendoroid STRength, but the real winners are hosts of the contest. Not many figure bloggers have the pleasure of meeting readers in the flesh, and I definitely want to do more of that. Dear Santa: I want a life-sized Mikudayo outfit to wear next year. I can just see it now: FIND THE MIKUDAYO AND WIN FABULOUS PRIZES.
The highlight of the day's events was a three-hour program called "Totally Lame Anime After Dark". Hundreds upon hundreds of people packed into a massive presentation room to watch hilariously awful anime clips along with fun commentary. There were all manners of badness, but one thing that stood out was a series of super-depressing Japanese beer commercials featuring animated penguins. Apparently the ads were successful enough to warrant the making of a Vietnam War film…starring the penguins. I'm not kidding — it's serious as cancer.
But that's enough of me blabbing — I know you're only here for the cosplay photos. The convention proved to be a great testing ground for the YN-560 III flash I bought recently.
I have to say that I didn't have much success with it outside. Using it for fill flash outdoors gave off a rather unnatural look, and using the soft box + optical trigger was way to fiddly between adjusting the power of the flash, having the trigger randomly not work, using one hand to hold the flash and the other to work the camera. But more importantly, Since the maximum sync speed is 1/250 of a second, I had to really shrink the aperture during the bright outdoor lighting conditions. This means I can't take advantage of the subject isolation that comes with having a large aperture prime lens.
However, the flash really shined indoors. Bouncing the flash off the ceilings made for very nice lighting, and since it's not blindingly bright indoors, I could keep my aperture big and blur out the crowd behind the subject. I couldn't believe how easy it was! A couple years back I absolutely dreaded taking photos indoors, but with a flash it suddenly became the preferred place to take photos!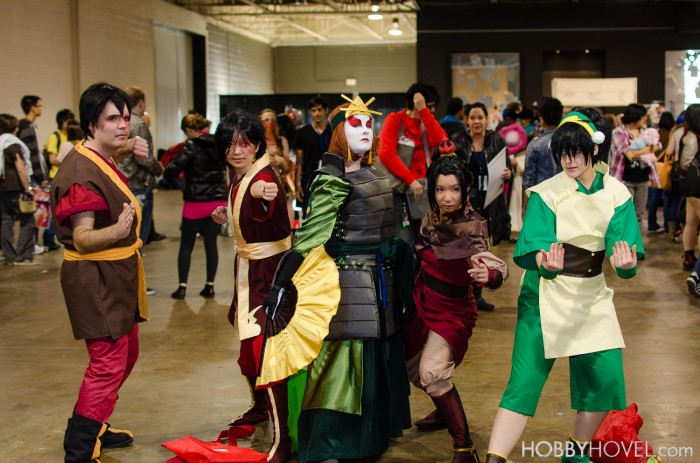 All in all, Anime North was pretty fun. It may not have the superior location and all-star guest list like Otakon, but it's still a great excuse to meet friends from the internet and blind people with my toys. I'm definitely bringing more water and food next time, though — getting food is a daunting task when you're fighting in line against the weeaboo hordes. Bringing a couple of pepperoni sticks along with a bottle of Gatorade ranks amongst the best ideas I've ever had.