It's been over a year since my last convention experience at Anime North. Since then I got a job, moved out, and am feeling pretty different from the me a year ago who was slogging through his summer courses. I've worked quite a few weeks of overtime covering for the vacations of various co-workers and thought it was about time that I should get on this not-go-to-work action. But this time, the days off won't be spent playing video games and jerking off — nay, it's time to step up the game. I've had the idea for a few months: it involves plane tickets, a hotel room, a weirdo I know from the internet, and around thirty thousand other weirdoes that I don't know — that's right, it's time for Otakon with Hamstercorp.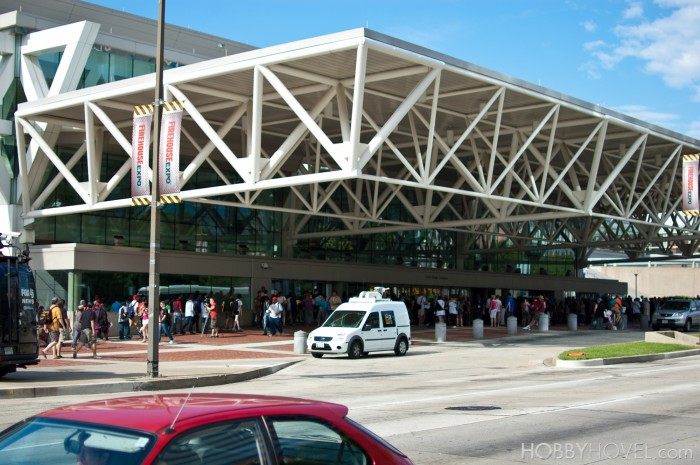 I gotta admit: as the end of July drew closer, I had a feeling that this event was going to be my last con. I didn't dread the trip, as I looked forward to meeting Hamstercorp again, but I saw the con as potential closure of sorts. As I mentioned in the Anime North post, I was getting the feeling that I was getting too old for conventions, that the appeal of these events are drifting further away from myself. I saw Otakon as a last huzzah — going out with a bang at the second largest anime convention in North America, seeing it out and thus leaving no regrets. However, things didn't quite turn out that way. What do I mean by that? Keep reading!
Organization
The Otakon crowd this year was massive. There were over 32,000 nerds running about the heart of Baltimore, and nearby restaurants were turned into warzones for the employees who had the misfortune of working that weekend. Yet despite the staggering numbers, I couldn't help but to amazed and how well planned and organized the event was.
The venue for the event, which consists of the Baltimore Convention Centre and the Hilton hotel, was perfect. Though the weather was absolutely boiling outside, the entire venue of air conditioned, and you could walk from one end of the convention to the other without leaving the comfort of cool air. I cannot understate the amount of frustration and irritation this alleviates.
Furthermore, large parts of the venue were either lined with gigantic glass windows or generously lit by overhead lights. This made indoor photography very simple. I was able to take most photos on ISO 200 without any problems. I never had to resort to my flash (except for one shot in a Q&A panel room), yet none of the cosplay photos were too bogged down by noise. This is a total change from Anime North, where you either had to be buttfucked with harsh lighting and hot weather, or be inside with shit lighting and still without air conditioning. Cosplayers and photographers, take heed.
The line-ups for guests, concerts and special events were intimidating. Some lines often seemed hopeless at fight sight, even with the skillful directions of the staff members to compact the lines in ways that were organized and unconstructive to other attendees. Yet no matter how long the lines were, even the monstrous line for the Sunday concert that stretched outside of the building, the spacious event halls were always able to accommodate everyone. It's as if the crowd was walking into Doraemon's pocket — mind-boggling stuff.
The only shortcoming I experienced was in the morning events. For some reason, these events filled up so fast that latecomers were greeted with an "panel full" sign — at least that was the case with "the aging otaku" and "JoJo's posing school" panel and workshop, respectively. I was a little bummed at this, but given the massive deal's hall and artist alley, I was not going to shed any tears over this.
Cosplay
When I asked the question "What would you think about a convention without cosplay" last year on Twitter, one of the answers I received was "Pointless". I was a little disappointed by such an answer, yet I understood fully well that cosplay add a lot of colour to these events. Personally, I'm not the biggest fan of cosplay, though I don't bear any grudge towards the hobby itself. It's just that in a heavily congested convention, having the halls clogged with cosplayers posing for photos can get annoying real fast, especially if the cosplayers are a bunch of screeching teenagers. Cosplayers as a whole also tend to be of a different demographic, and I thought about how the removal of cosplayers may consolidate the convention crowd as a whole. But after Otakon, I get the feeling that I'm just over-thinking things.
The cosplay crowd this year was great. There was a tonne of variety with no single character or series feeling too dominant. There weren't a legion of people in those black Bleach robes, nor was there constantly a gaggle of Mikus and Clouds roaming around. Some interesting trends were Avengers movie Loki crossplay, Ezio from Assassin's Creed and things from Homestuck, but none of those were nearly numerous enough to feel overwhelming.
To my pleasant surprise, there were a lot of silly and creative outfits. From the old-school North American box art Bomberman to a "modern" demoman from Team Fortress 2, there were plenty of laughs that brightened the overall experience. My favourite has to be the crossplaying Cirno with a full beard and stunnah shades. It was undoubtedly the STRONGEST cosplay of Otakon.
Anyhow, the convention really helped me overcome some annoyances and complexes surrounding cosplay. I realized that my "FUCKING ATTENTION WHORES" mentality was just a product of the prior year's butthurt, and when the crowd was adequately roomed, the whole congestion annoyance really wasn't much of an issue anymore. I really got the feeling of endearment from the cosplayers towards their characters, and even if they were just for the attention grab, it really ain't my business. Besides, as a blogger, I know full well the feeling of wanting to be noticed as I sit here hoping to see a comment notification e-mail *NUDGE NUDGE*.
Panels and events
One of the things I liked the most about Otakon is the fact that it's actually an anime convention. There were no My Little Pony panels. There were no Homestuck panels. There were no League of Legends panels. Japanese Otaku culture is wide enough of an umbrella, and I greatly respect the decision to keep all of the events relevant without spreading the focus too thin.
As a total surprise, I was able met Super Rats from HappySoda at the PVC figure panel. He's a really personable guy, and it was great to speak to one of the people who got me started on figure photography three years ago.
The Jeopardy-style game show was on a level of its own in more ways than one. There was actually a pen-and-paper qualification quiz before the event, and the top-scoring individuals were given the right to compete. And let me tell you: the questions asked during the contest were brutally difficult. I've won a couple of con contests here and there at small events, but I could not even answer an single question during the time I watched the contest. The four contestants were undoubtedly of massivepower levels — in fact, I'm pretty sure I saw stones levitate and crumble around the stage.
The last panel I caught was the Comic Book Legal Defense Fund's panel on the story of Ryan Matheson, who got charged with the possession and importation of child pornography when he traveled to Canada. During the case, one of the two "obscene" images that were brought up against him was the image above, and that was the more "extreme" of the two because it supposedly depicts five-year-olds fucking. Yeah.
Needless to say, his case was really eye-opening, and I respect him tremendously for refusing the bailout deals and fighting (and winning) the case in court. Not only did he stand up for his own passions, but I think he also defended the hobby as a whole, even if that might not have been his chief goal. It was also pretty eerie how much of his story paralleled with my trip. He was caught when he was going on a five-day trip to meet up with an internet friend, which just so happened to be the length of my trip. The moral of the story is: when the customs agent asks you questions, don't say "I'm here to visit a person I met over the internet whose address I don't even know", because that just might get your laptop searched. And then the customs agent sees that Azu-nyan wallpaper on your desktop, you just might be in for a longer search than you bargained for.
There were so many other panels that I highlighted on the schedule but was unable to attend. Between buying stuff, lining up for the special guest events, eating out, and getting sufficient rest, it was simply impossible to catch'em all. Still, I think I might have been able to fit more into the schedule, but that'll be the story for next year.
Guests
At the end of the day, it was Otakon's guests who defined the trip for me. These boiled down to three categories: Q&A panels, signing sessions, and musical acts. Initially I didn't think listening to some bloke answer questions would be interesting, but now I'm really having trouble figuring out why I ever thought that way. I attended the Q&A panels for Urobuchi Gen (writer of Fate/Zero and Madoka) and Hirano Aya (voice of Suzumiya Haruhi, Izumi Konata, Nanael, etc.). Here are some highlights off the top of my head:
For a guy who writes some pretty dark shit, Urobuchi Gen seemed really…normal, asides from that fact that he read through Lovecraft's works back during junior high.
Hirano Aya's nickname in school was Ayanami Rei because she talked so little. Who would've thought?
When asked which servant he would want to summon and which servant he would absolutely want to avoid if chosen as a participant of the Holy Grail War, Gen picked Archer as his #1 choice for his reliability. For the one he wants to avoid, he picked Gilgamesh.
When a fan requested Aya to say a line as Konata from Lucky Star, she went with "FLAT CHESTS ARE A STATUS SYMBOL". The translator was too embarrassed to translated that.
Gen described writing for games and writing for anime as polar opposites: the former required a Dickensian amount of detail to provide the length of entertainment with which the hefty cost of the visual novel can be justified, and the latter required a barebones approach that the rest of the anime's staff and build upon.
Aya described a rather fascinating personal parallel between herself and Haruhi. She also said that the KyoAni stuff used video capture of her singing face to animate the concert sequence in Haruhi's "Live Alive" episode.
The signing sessions were also something I was a little dubious about, but as I found out, if you have something cool to be signed, the appeal of these events increase exponentially. I got a super-neat print of Homura in the artist's alley, and when I realized I could have Gen sign it, I suddenly became stoked as fuck. Sadly, because of the rescheduling of Aya's concert (which was immediately followed by the signing session), the line was simply too massive , therefore I had to skip on that. Still, I'll be sure to frame the Homura print with Gen's needlessly huge signature and hang it on my walls.
Finally, there were the musical acts, and they were a doozy. The first performance on Friday night was Joho Mikako, who is a modest Japanese musician with a great voice. To be honest, I didn't really like her original songs as they were a bit dull. Thankfully, she performed a few anime songs including a Inuyasha ending theme and Yui's "Again" from Fullmetal Alchemist: Brotherhood, which were a great treat.
The second musical act was a K-pop boy band called "Vixx", and the only relation they have to anything Japanese seems to be their logo, which is pretty much Mazinger with a V-fin. They definitely knew how to work the female crowd with their dancing and lyrics. One of the songs was about how they wanted to have consensual sex with the audience. Needless to say, I was less enthused by this bunch, but it was still lively enough to be enjoyable.
The real highlight was Sunday's musical act, which featured none other than Hirano Aya. For such a skinny little woman, I can't figure out for the life of me where she gets her energy. As she performed songs from her new CD, she was bouncing up, down and around the stage. She sounded fantastic live, her original songs were catchy, and the energy in the air was palpable. Of course, knowing the nature of the crowd, she then busted out the Haruhi songs: God Knows, Super Driver, Bouken Desho Desho, Lost my music — the whole shebang. It was an amazing performance, and by the end I was running hoarse from all the shouting. I could not have asked for a better note to end my Otakon experience on.
Final Say
So yeah, that was my time at Otakon. Far from the last huzzah I imagined, the convention has taught me that a good con has something for everyone. A comfortable venue, an army of ambitious cosplayers, a handful of great guests, and a superb staff who knew how to manage such a big crowd — all of this ultimately made for an amazing experience no matter what kind of fan you are. I can pretty safely say that I've gotten over the Anime North shell shock, but I really can't say I'd attend that convention again, because when squared against Otakon, even the largest anime convention in Canada fares poorly.
Would I go to Otakon next year? My answer would've been 100% yes if not for the possibility of an alternative. I would love to assemble the weeabros at Anime Expo next year in Los Angeles, which would be a convenient places to meet my friends in Aussieland. But if that doesn't end up happening, I'll be sure to come back to Otakon and rely on Hamstercorp once again, who has done an amazing job as a host and guide to the mentally handicapped. I can't vouch for every convention out there, but if you're within a reasonable distance to Baltimore, I highly suggest checking Otakon out next year.
Anyways, I've rambled on long enough, so I'll leave you to the gallery. There are plenty of cosplay gems in there which were not included in the body of the already bloated post, so be sure to check them out.