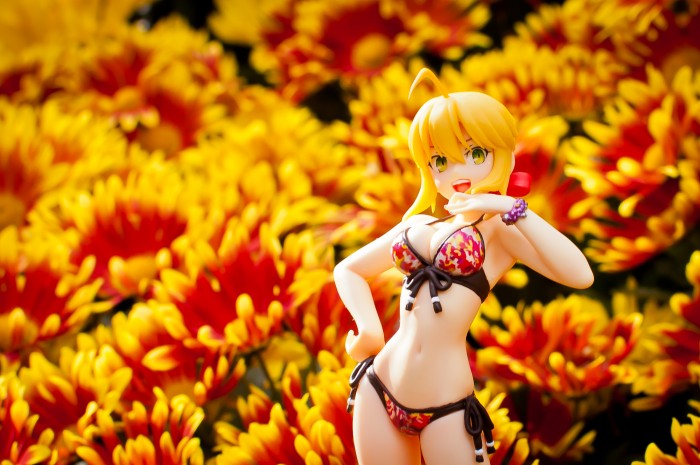 Saber, Saber, Saber — even eight years after she was introduced to the world, the figure-collecting community is still driven by a never-ending hunger for anything with a big blonde hair bun. I would know, since this is the sixth Saber figure I've reviewed here on Hobby Hovel. However, this is not quite the guilt-burdened King of the Britons that we all know, but rather a curious look-alike from the PSP game Fate/Extra.
I didn't like Fate/Extra — in fact, I think it has the worst combat system of any video game I've ever played. It's literally rock-paper-scissors, and one's success in fighting monsters boils down to memorizing the order in which the opposing monster will throw their selection of the three attacks. It's completely dull, unintuitive, and should you take a break from the game like I did, have fun re-memorizing all of the patterns, because going in blind will get you thrown back to a distant save point.
It's a shame, really, because Fate/Extra has a great cast of characters. With servants like Robin Hood, Sir Francis Drake (who apparently has a pair of great tits), and Vlad the Impaler, The backstories of the servants alone were  almost compelling enough to keep me going…almost.
As for Saber in Fate/Extra, she's is in no ways related to the Saber in Fate/Stay Night, despite what her appearance might suggest. Her identity is the Roman Emperor Nero, thus there is no reason for her to look almost identical to vanilla Saber, and the game can be fairly accused of tastelessly mooching off of the original game's imagery.
But appearances aside, Saber Extra comfortably sets herself apart. Confident, arrogant, frivolous and hot-tempered, this red Saber's personality seems to have taken a page from Gilgamesh. Yet even though she sometimes looks down upon her Master, she has a great sense of loyalty and would lash back at those who would insult her Master.
Since I never finished the game, I don't actually know Saber Extra's character all that well. Looking back, this figure was a blatant impulse buy. Wave's Beach Queens have been around for quite a while, and even though Ashlotte has warned me of what is to be expected out of their 1/10 scale figures, I thought I would give it a try anyway.
…I should have listened to him. Read more »